3D Modeling Software Top 2022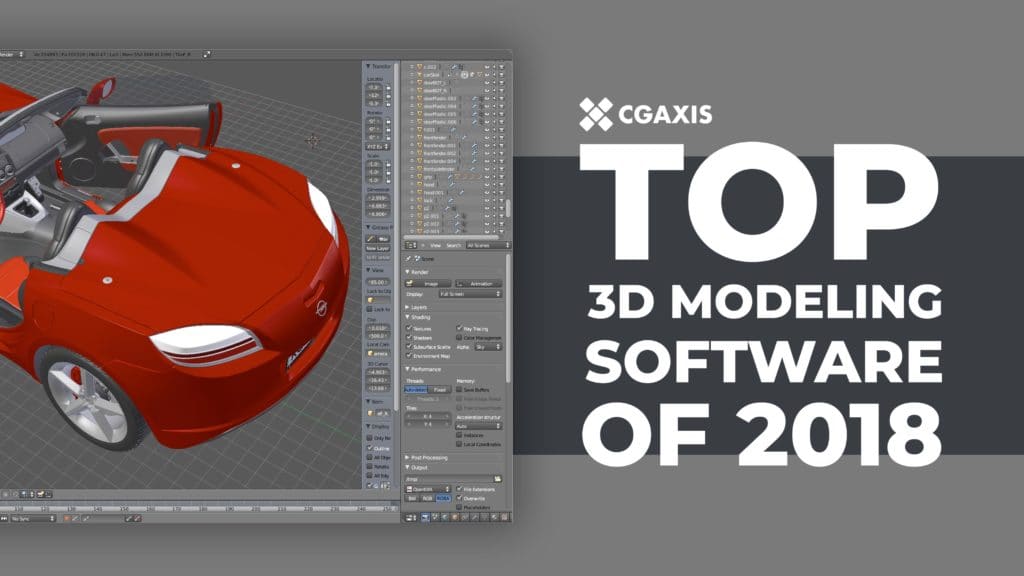 3D Modeling Software Top of 2018
A 3D modeling software is a program that designs three-dimensional models of characters or objects. Apart from the designs, the software contains supplemental features to flesh out the models with features that are regarded as more realistic representations to real-life images. This can only be achieved with a variety of tools and approaches embedded in the 3D modeling software. These tools and approaches include painting to add texture, lighting, and shadow to make the composition more realistic. Users of the modeling software range from designers, architects, animators and game developers among others.
The epitome of an excellent 3D modeling software is characterized by its ease of use, cost, compatibility with other software, realistic image quality, rendering capability and a wide variety of features for its users. Here are 4 3D modeling software considered as the best for 2018.
Blender
Blender is a user-focused design program used by many designers and developers especially because it is free. If you cannot afford other 3D modeling software, then this is the right choice for you. Despite it being free, it facilitates the user with the best quality imagery as a final product. Being a big open-source project, you have the vast disposal of features you can use. The user could tackle rigging, animation, modeling, simulation rendering, full game creation and motion tracking among other functions.
The software is available for all major computer operating systems such as Microsoft, Mac OS, and Linux. Its "by artists, for artist" philosophy, makes it well-suited for independent creators. One of its top attributes is that the software provides a full engineering system and automates animation by interpolating between key-frame positions. Its only drawback would be its particle system which at times could be limiting and stubborn to get working. Though it could get the job done, it is still far from most advanced systems and requires advancements to get to higher levels. Blender is also non-standard meaning that when you consider it, progressing to other 3D modeling software will still be an uphill learning task.
Cinema 4D
It is a brilliant 3D modeling software developed by Maxon for beginners and professionals likewise. It costs approximately $3,495 as a one-off cost and requires a Maxon license to use it. Cinema 4D may be expensive, but it makes up for it with its detailed tools options. Every tool has a help option to guide the user on its functionality, an attribute that has made Cinema 4D be named the software with the shortest learning curve. It is also user-friendly especially if you're a beginner and gives out show-stopping work in terms of quality.
Cinema 4D is built for users wishing to begin or advance their careers in 3D modeling. Given the price point to obtain a license, you should not buy the software for experimental purposes. Take advantage of the 42-day free trial to decide whether the software is meant for you. Maxon has also given the option to purchase the license cheaply for students and short-term users.
Find wide range of 3D models for Cinema 4D ready to download on CGAxis.com – click here
ZBrush
ZBrush is a unique 3D modeling software as it is among the first detailed 3D sculpting software perfect for 3D printing. This means it can give a detailed 3D print on a 3D printer. It costs $795 and operates on both Windows and Mac OS operating systems. It uses the Pixel technology to store lighting, objects and material information on the computer screen. The tools used for creating 3D models and designs are sophisticatedly aiding in the creation of high-resolution arts to be used in movies, games, and animation.
The software is popular among artists especially those that wish to print vinyl toys and action figures. Apart from printing, ZBrush presents its user with additional tools that allow them to create directly in the system and even apply rendering after the sculpting phase. The only disadvantages are that ZBrush is challenging to learn and its relatively high price point.
So, if you wish to explore detailed 3D printing of characters and objects, ZBrush is the answer. If not, the other 3D modeling software highlighted in this list is also capable of producing 3D prints.
3DS Max
If you're looking to build high-end productions that will impress the public with sharp, high definition graphics, then you should consider 3DS Max as the 3D modeling software of choice. It may be highly priced at $1,470 annually, but if you're focused on modeling ultra-detailed animation and rendering via Iray, Arnold, V-Ray and other tools, then the price should not matter. Like Maya and AutoCAD, 3DS was developed by Autodesk and updates made on the software push it further towards integration and compatibility with other software in the industry.
3DS boasts of its very robust toolset meant for 3D modeling and through its vast library of different modifiers, 3DS Max makes it easier for beginners and intermediate users to use the software. It is available for 30 days as a trial version before you decide to subscribe.
3DS Max is only available for Windows meaning it is a drawback for users with Mac OS operating system.
Find wide range of 3D models for 3DS Max ready to download on CGAxis.com – click here
Conclusion
The products on the list have high substantial Market Presence scores and are not necessarily listed based on user reviews. So, if you wish to begin or advance your career in 3D modeling, consider any of the four products listed above.